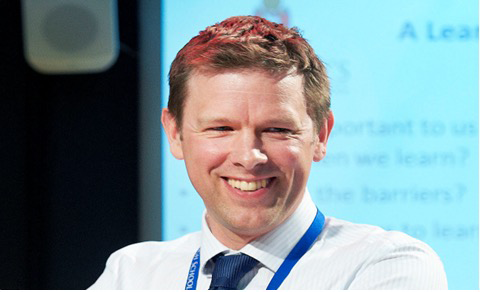 Ackworth School is pleased to announce the appointment of Martyn Beer as the new Head, effective April 2024. Martyn, who is currently Senior Deputy Head at Bootham School in York, will succeed Anton Maree as Head, bringing with him a wealth of experience in education and a passion for nurturing the potential of each student.
Martyn joins Ackworth School with an impressive background in leadership and a deep understanding of the educational landscape. He brings a range of senior leadership experience from the independent and state sectors across the areas of pastoral, academic, boarding, and enrichment. This has been supplemented by national leadership work in ethical leadership and Quaker values in education.
As the incoming Head, Martyn expressed his excitement about joining Ackworth School, saying, "I am honoured and delighted to have been chosen as the new Head of Ackworth School.  I am passionate about the lifelong, transformative potential of education and look to foster an educational approach which nurtures open-minded, thoughtful, compassionate, socially responsible young people who are ready, willing, and able to make the world a better place and celebrate its diversity.  I am excited to see these values at the heart of Ackworth's Quaker heritage and ethos and am looking forward to joining such a vibrant and diverse school community."
David Bunney, Clerk to the School Committee at Ackworth School, shared his confidence in the appointment of Martyn Beer, stating, "The School Committee is thrilled to welcome Martyn Beer as the incoming Head of Ackworth School. His passion for education, proven leadership skills, a deep understanding of our shared Quaker values, and the importance of individualised pupil development make him the ideal candidate to lead Ackworth into the future. We look forward to working with him as we continue to provide an exceptional learning environment for our students."
Ackworth School would like to extend its sincere gratitude and thanks to Anton Maree, the outgoing Head, for his dedicated service over the past ten years. Under his leadership, Ackworth School has flourished and maintained its position as a leading institution in the field of education, despite unprecedented challenges presented by the COVID-19 pandemic and subsequent economic crisis. Anton's commitment to the students, staff, and community has left an indelible mark on the school, and his contributions will be remembered fondly as Ackworth School enters this exciting new chapter.
Martyn's tenure as the Head of Ackworth School will commence in April 2024. Ackworth School is eagerly looking forward to the new era under Martyn's leadership and anticipates further growth and accomplishments as the institution continues to provide an outstanding educational experience to its students.
About Ackworth School:
Established in 1779, Ackworth School is a leading independent Quaker day and boarding school situated in the picturesque surroundings of Ackworth, West Yorkshire, UK. Ackworth provides an exceptional education for students aged 2.5 to 20, focusing on academic excellence, character development, and the cultivation of a global perspective, underpinned by Quaker values. The school's commitment to holistic education and its unwavering dedication to the success of each student have earned it a distinguished reputation both locally and internationally.
For media inquiries, please contact:
James Busson
Director of Marketing, Admissions and Communications
Ackworth School
Phone: +44 1977 233620
Email: james.busson@ackworthschool.com